Tusiime strives to provide education that will produce graduates who will support the social and economic transformation of Tanzania.
With its vision "To be a quality education provider with high academic standards", it has remained among the top schools in Tanzania.
The school program is designed so that all pupils and students have a solid academic foundation and are well prepared for the demanding higher education environment.
Happy Children are successful children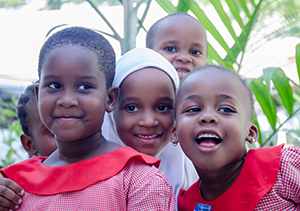 Tusiime is a very special school which is both traditional and innovative, academic and caring, understanding and structured, industrious and with fun.
As an independent school, we are free from the restrictions of government control, and can focus on doing what is best for our students. We recognize the benefits of a traditional education with a focus on academic skills, creativity and the acquisition of knowledge. We believe that a good school sets the work habits of a life time, and that student benefit from a positive and ordered environment where they develop a love of learning. We know that children only succeed when they feel confident and cared for, and that high quality pastoral care is essential: happy children are successful children.
Looking to the Future
Tusiime School has a duty not just to educate for exams, but to prepare children for a fulfilling adult life. We are a co-educational school, and believe that in today's world where men and women have the same career aspirations and work alongside each other, it is sensible and natural for boys and girls to be educated together, learning to respect one another as individuals. Important qualities such as empathy and emotional intelligence are best fostered in a co-ed environment where the emphasis is on valuing the individual. There is equality of opportunity for all Tusiime students irrespective of gender, and this is a school where anybody can achieve anything.
Striving for excellence
We have been a successful school for nearly 10 years because we never rest on our laurels, and we innovate in the best interests of our pupils. Information and communication technologies provide a multitude of exciting learning opportunities but in embracing new technologies we do not lose sight of essential and timeless skills.
Values
In both our academic and pastoral program, we aim to foster:
Belief in oneself: integrity, independence, courage, endeavor, reflection and self-confidence
Belief in others: trust, appreciation, consultation, understanding, generosity of spirit, respect and tolerance
Commitment to learning: an enthusiasm for and love of learning
Commitment to the community: participation, service, responsibility, leadership, initiative, compassion and commitment to equality. The school program is designed so that all pupils and students have solid academic foundation and are well prepared in demanding higher education environment.
Reporting Process
Pupils' work is regularly marked and teachers will write comments and set targets so pupils have regular guidance on how to make progress in that subject. Pupils have regular tests in lessons to understand how well they are progressing.
Each week students meet with their Class Teachers to review progress, looking at books and files, and setting medium term targets to help guide students and improve where necessary.
Reports are written at the end of each term and a grade card is given to parents upon School Closing. Once a year parents will come to school for a parents' meeting where they will discuss progress with teachers.