A unique educational experience
With more than 800 students we have the critical mass to offer a broad range of academic opportunities, high quality sports teams and an exceptional enrichment program. However, Tusiime High School is also small enough numerically for every student to be known, respected and supported as an individual.
Our students are a lively and diverse group of people. We have been here for over 4 years and we draw students from a wide range of backgrounds. All new students quickly become integrated into the school community and make strong, lasting friendships.
A reputation for educational excellence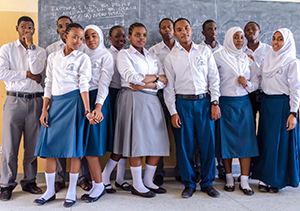 Tusiime High School curriculum is based around A levels and the Pre-College qualification. This is a flexible structure and our students can study up to five subjects.
Class sizes are small and the teaching is excellent. As a consequence, standards are extremely high: in 2013 our students achieved 64% A and B grades at A level (16% at A* and A grades). For these reasons, the vast majority of our students obtain places at their first choice university and this year more than 60% have been accepted in major universities in Tanzania
Indeed, the recent NECTA results placed Tusiime High School 9th in Dar es Salaam table and 77th of the top 100 schools in Tanzania recording the proportion of higher education applicants accepted at highly selective universities. In that study, over 60% of Tusiime applicants were given places at the top universities, compared with a national school average of 23.8% and a private school average of 48.2%.
Part of a larger school community
We believe our High School also benefits greatly from being part of Tusiime Secondary school: our students play an important leadership role as prefects, expedition leaders and sports captains.
We recognize that the transition to high school life and then university can be a challenging time. In consequence, our pastoral care system, based on close tutorial relationships, is geared toward ensuring each student's academic and personal well-being. A dedicated university and careers advisory team within the High School also provides ongoing support to students throughout the university application process.