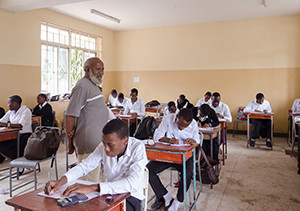 High School is an exciting time to explore in depth new fields of study and to develop new skills out of the classroom as well. Our aim is to help students to achieve their full potential, and to prepare successfully for transition to the demands of independent study at university.
Tusiime high School follows the Tanzania A-Level curriculum established by the ministry of Education.
Teaching groups are small (normally a maximum of 14 per class, often fewer) and our pastoral systems are strong. Every High School student is known by their teachers, who see them every day, and High School is overseen by the Head Master. Senior Teachers are also available to help or advise when needed.
The High School offers great opportunities for students to specialize and to construct their own curriculum. Most students study five subjects at Form V and Form VI. Those who are studying PCM, study only four subjects at Form V and VI.
Many students are clear that they are ready to specialize. An aspiring medic may select Biology, Chemistry, Physics; an engineer might opt for Mathematics, Physics and Chemistry as an excellent springboard to university study. Others will keep their options open, and might study Psychology, Biology, Geography, Commerce, Accountancy, and Economics; or English, Kiswahili and History.
There are three key factors to consider in choosing an A-level subject combination:
Ability profile: What subjects does a student excel in?
Preference: What subjects does a student enjoy?
University entrance: What subjects are required?
The following subjects are being studied in the academic year 2014-15: Mathematics, Physics, Chemistry, Biology, Religious Studies, Economics, English Language, Commerce, Accountancy, Geography and History.
Those subjects forms the Combinations listed in the Table below
| | |
| --- | --- |
| Combination Name | Combination Subjects |
| PCB | Physics, Chemistry, Biology |
| PCM | Physics, Chemistry, Mathematics |
| CBG | Chemistry, Biology, Geography |
| ECA | Economics, Commerce, Mathematics |
| EGM | Economics, Geography, Mathematics |
| HGE | History, Geography, Economics |
| HGL | History, Geography, English Language |
| HKL | History, Kiswahili, English Language |
| HGK | History, Geography, Kiswahili |