Physical education
Physical development goes ha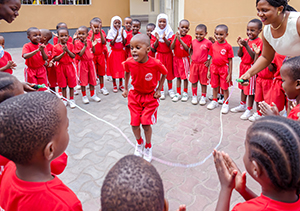 nd in hand with academic development at the school. There is specialist games coaching from Nursery School, even those at prep level are able to benefit when they are ready.
We are fortunate in having a range of facilities at our disposal: our spacious playground, a light and airy hall and extensive PE equipment. In addition, the children relish visiting the playing fields at Secondary which are only a 2 minute walk away.
Music and Drama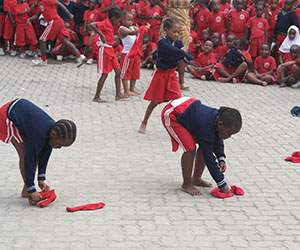 The creative arts form a very important part of life at Tusiime. In addition to the many opportunities for performance work within lessons such as English, Music and Drama, our pupils are given many chances to perform in public, both formally and informally.
Each year group takes part in a major production at least once a year. Pupils usually perform at the different events such as graduations, which offers such wonderful opportunities for our younger pupils to be involved in music and drama and to perform in front of parents and other guests.
In Secondary and High School, students produce a full scale musical which forms part of their Music and Drama curriculum, and draws on all the theatre skills they have developed over their time with us.
Throughout the year, there are many performance opportunities for these musicians, including form concerts, graduations, Friday assemblies and our annual school concert in which all members of the school take part.