Aim
Literacy and communication are key skills and it is our aim that pupils develop these skills so that they can communicate effectively and creatively through the spoken word and written language. From this flows an appreciation of language and literature, combined with an enthusiasm for and awareness of the rich tapestry that is the English language.
Approach
Our English curriculum provides a rich and stimulating language environment, where speaking and listening, and reading and writing are integrated through the study of whole texts. This literature is explored in a creative way through drama, media and discussion. By studying a range of children's literature our pupils are able to write in a variety of fiction genres and are familiar with many of the ways in which narratives are structured through basic literary ideas of setting, character and plot. They also know, understand and are able to write in a range of non-fiction genres and structure text in a style suited to its purpose. Our children are inspired by high quality literature, making them original and imaginative writers.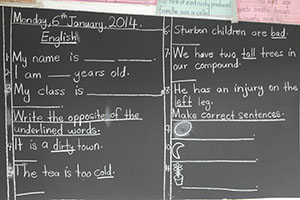 We foster an enthusiasm for, and love of, reading for life, encouraging children to read for enjoyment and evaluate and justify their preferences. We encourage children to express opinions, articulate feelings and formulate responses to a range of texts. Reading skills are acquired by initially drawing literal information from a text and then progressing to develop higher level comprehension skills such as deduction, empathy and prediction. Further up the school, children are able to analyze text and present their thoughts in an essay format, using evidence to support their ideas.
The curriculum also provides a scheme of work to develop and support the skills needed for English in stages of progression. This helps them to understand the phonic system and spelling conventions and develop accurate reading and spelling expertise. It nurtures an interest in words and their meanings and encourages a growing vocabulary. The importance of fluent and legible handwriting is fostered, as is the ability to use grammar and punctuation effectively.