An inclusive, exciting and engaging range of extra-curricular opportunities ensures that the intellectual curiosity of our pupils is stimulated and enriched beyond the classroom.
We believe that sport, music, art and drama are integral to the development of our children and we run a wide range of clubs and activities during lunchtime and after school, which supports this belief.
Title Comes Here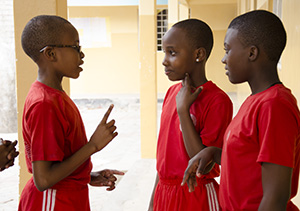 The creative arts form a very important part of life at Tusiime. In addition to the many opportunities for performance work within lessons such as English, Music and Drama, our pupils are given many chances to perform in public, both formally and informally.
Each year group takes part in a major production at least once a year. Pupils usually perform at the different events such as graduations which offers such wonderful opportunities for our younger pupils to be involved in music and drama and to perform in front of parents and other guests.
In the secondary and high school, students produce a full scale musical which forms part of their Music and Drama curriculum, and draws on all the theatre skills they have developed over their time with us.
Throughout the year there are many performance opportunities for these musicians, including form Concerts, graduations, Friday assemblies and our annual school concert in which all members of the school take part.