The heartbeat of the school is a broad curriculum which stretches the brightest, includes 'hard' subjects and is focused on preparing students for a brilliant future.
Tusiime Secondary School curriculum is broad and diverse, enjoyable and fast in pace. There is support and challenge for all students, and the secondary school is a time in which students take increasing responsibility for their own study and progress. Students have the opportunity to choose optional subjects to go alongside the compulsory NECTA subjects listed below, firstly in Form Two Exams, and then for Form IV Exams.
In Form III, all students study the seven core subjects shown in the table below. They choose a further three optional subjects
Challenge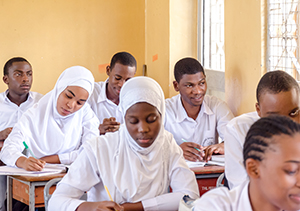 The Tusiime secondary school curriculum is broad and stimulating. Students are taught by subject specialists, often in specialist classrooms and laboratories, and establish learning habits which will take them to ASCEE and beyond.
Some subjects are familiar from primary school. Others seem quite different. Biology, Chemistry and Physics are taught separately throughout the school, and often in purpose-built laboratories, We aim to encourage a love of learning and the confidence to rise to new intellectual challenges.
Tusiime pupils are trained to think independently and to engage constructively with a diverse and complex world. They may be reflective thinkers in one lesson, collaborative team-workers in the next. Tusiime Secondary is an exciting place of energy and ideas.
Breadth
A broad-based curriculum is essential for balanced intellectual development. Tusiime Secondary school therefore provides a wide core of compulsory subjects to NECTA exam.
Students are valued as individuals who progress at different rates, and require increasingly flexible learning opportunities
The unexamined life is not worth living.
We do not believe that Socrates had NECTA in mind when he said those words, and we are also passionate about our non-examined curriculum! This includes the opportunity to take part in a range of subsidized extra-curricular subjects' courses.
The table below shows the main subjects in the curriculum for Form I – Form IV
| | |
| --- | --- |
| Compulsory NECTA subjects | Optional NECTA subjects |
| English | Commerce |
| Kiswahili | Book keeping |
| Civics | French |
| Mathematics | Additional Mathematics |
| Geography | Information and Computer Studies |
| Biology | |
| Chemistry | |
| Physics | |
| History | |